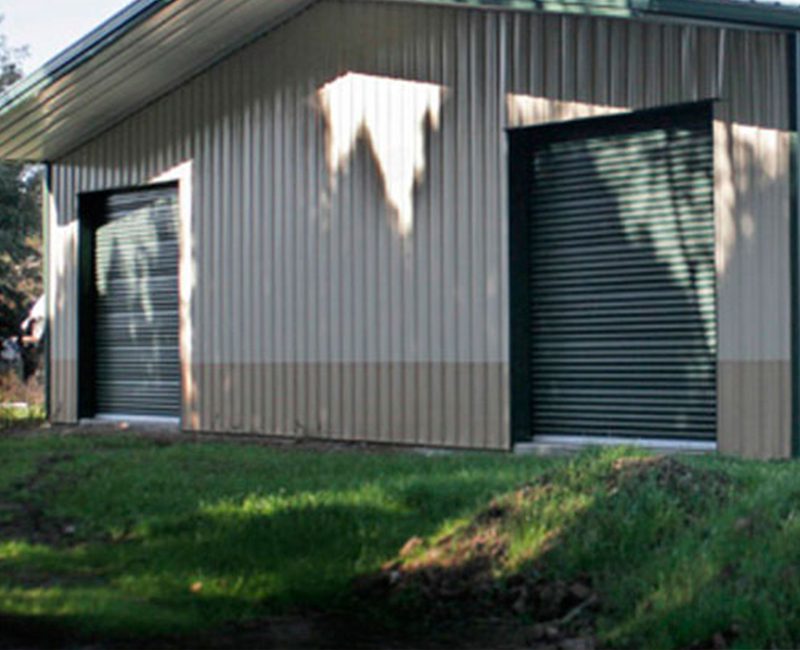 Popular Church Metal Building Types: Church Sanctuaries, Church Classrooms, Church Fellowship Halls, Church Gymnasiums, Church Multi-Purpose Facilities, Church Youth Centers, Church Storage Buildings
Church Storage Metal Buildings
When it's time for your church to expand your existing facility to add a storage building for the growing ministry and maintenance needs of your campus, BRI Buildings can provide your church with solutions that will meet your long-term needs in a flexible, attractive and economical way.  A metal building package from BRI Buildings can be easily used to construct your storage building or multi-purpose facility. Whatever your church's building need, BRI Buildings has a solution.
Each BRI metal building package is individually designed and engineered to meet your exact requirements as well as local building codes. Your storage building can be built to blend well with your existing church structure as well as any conventional exterior material. A mixture of glass, brick, stone and other more traditional veneers can accent your storage building's beauty and complement the atmosphere of your church's campus.
If future maintenance and energy costs are a major consideration for your church, then a BRI metal building will fit the bill. We only use performance-proven, quality materials used in manufacturing to ensure savings on future upkeep and maintenance. There are many other advantages to choosing a metal building from BRI Buildings.
Advantages to Purchasing a BRI Church Storage Metal Building Package 
Faster Construction
Longevity
Lower Life-Cycle Costs
Low Maintenance
Design Flexibility
Energy Efficiency
Strength & Durability
Sustainable & Eco-Friendly
Metal Building Customizations
Customize your building to fit your specifications.   You decide what component, colors, insulation and siding choices you want for your custom building.
Sectional Doors
Walk Door
Roll Up Doors
Bi-Fold Doors
Storefront Doors
Skylights
Door Overhangs
Perimeter Overhang
Light Panels
Windows
Steel Mezzanine
Portal Frames
Framed Openings
Main Frame Endwalls
Crane Systems
Signature 200
Ash Gray – afa69a
Burnished Slate – 474136
Charcoal Gray – 65615e
Coal Black – 0c0e0e
Cobalt Blue – 153c56
Crimson Red – 963338
Desert Sand – a79f84
Fern Green – 2b3b33
Hawaiian Blue – 4c697b
Koko Brown – 57473d
Light Stone – d9d0b4
Polar White – e3e3d9
Rustic Red – 7a4138
Saddle Tan – b29f81
Signature 300
Almond – dfd6bf
Brite Red – 853536
Brownstone – af9d89
Classic Green – 2c4b3f
Colonial Red – 5f302e
Everglade – 5c736c
Harbor Blue – 203a4b
Hunter Green – 36443d
Medium Bronze – 575247
Midnight Bronze – 383b39
Natural Patina – 9fb9a1
Pacific Blue – 435767
Slate Gray – 807c75
Spruce – 6d887f
Tundra – a5a2a0
Snow White – e1e6e6
We offer a wide selection of Insulation choices.  Ask our sales professionals about your options.
Available Styles of Panel:
PBR
AVP
ShadowRib™
 Battenlok® HS
Superlok®
Double-Lok®
Ultra-Dek ®
Metl-Span®

Architectural
HPCI Barrier™
 Tuff-Cast™
 Tuff Wall™
 Santa Fe®
 Insul-Rib™
 Light Mesa

CF Mesa

 CF Fluted
 Striated
 CF Partition
 Thermalsafe® Fire Resistant Insulated
 LS-36™ Insulated
 CFR Insulated